My grandmother passed away when I was 15. I remember her daughters going through her closet. We donated most of her things. I wish we had known about the quilting idea then. We could've made a small quilt for everyone. Giving each of us the chance to hold a piece of her one more time. Let us help you relive those memories and create special moments. #myteequilt
---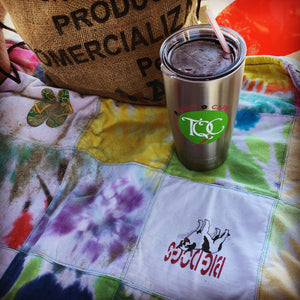 I started making t-shirt quilts in 2008 for an online company.  It was a very new novelty and only had a few online sites to choose from.  Today, it has gained in popularity and more t-shirt quilt sites are popping up.   I've visited a lot of them and came to the conclusion that they are all made the same with maybe 2 differences.   1) different fabric backing (with fleece as the most popular) 2) long arm quilting throughout the entire blanket.  This justifies the cost of a quilt, it is a tedious process with a special machine which...
---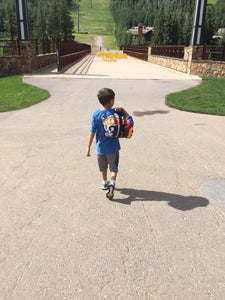 Everyone has a t-shirt quilt to cuddle up on the couch or spread out on a guest bed. Let's make one for the road! MyTeeQuilts are meant to be used on your travels. This is a great conversation piece you can take on your journey. Whether it's on the beach, at a picnic or game, or even camping! MTQs are made with flannel backing or jersey knit to avoid hitchhikers. You wouldn't want to spend the entire trip picking out grass, twigs and cockleburs. Besides, what says camping more than flannel.
---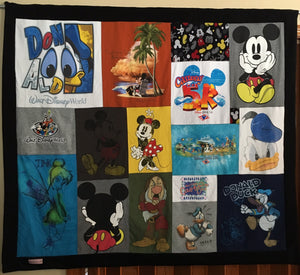 T-shirt quilts have grown in popularity, and why not? As long as there are kids with a history of sports throughout their school years, or moms finding it hard to get rid of cute baby clothes. Who doesn't have a sentimental t-shirt or two from a vacation or concert? A lifetime of memories stuffed into our closets. Quilting has been around for centuries. Old clothing made into blankets, usually with artistic designs, due to the small pieces available. So, why not turn our favorite t-shirts into one? I so regret getting rid of all my concert tees and my children's...
---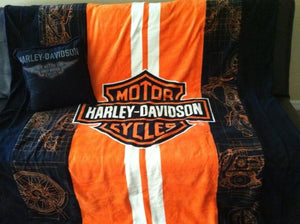 The saddest yet most needed quilt are the ones being made due to a lost loved one. Whether it's from cancer, accidents or a life long lived, it always brings a tear to my eye. Clients like to send in notes/ stories with their tees. (It helps with the creativity part). A friend from a lifetime ago, whom I did not keep in touch with, died in a motorcycle accident. Mutual friends contacted me and told me the sad news. I attended the funeral and saw many friends that I have not seen in over 15 years. I asked the...